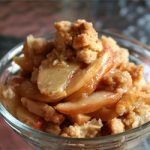 Gersh Girls' Apple Pie
2018-03-22 18:55:05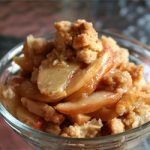 Nutrition Facts
Amount Per Serving
* Percent Daily Values are based on a 2,000 calorie diet. Your Daily Values may be higher or lower depending on your calorie needs.
Ingredients
PIE CRUST
3 c. flour
1 egg, well beaten
1 ¼ c. shortening (Crisco)
1 T. vinegar
1 t. salt
5 T. cold water
PIE FILLING
6 c. thinly sliced cooking apples (2 lbs.) Granny Smith
½ to 1 t. ground cinnamon
1 T. lemon juice
dash of ground nutmeg
1 c. sugar
1 T. butter or margarine
2 T. all-purpose flour
sugar
Sprinkle apples with lemon juice.
Instructions
CRUST DIRECTIONS
Cut the shortening into the flour and salt
Combine egg, water and vinegar
Pour liquid into flour mixture all at once
Blend with spoon until flour is moistened
This is an easy crust to handle and can be re-rolled without toughening it. (Also keeps in the refrigerator up to 2 weeks.) Makes 3 single pie crusts.
Divide dough into 2 or 3 balls. Roll out each ball to make thin bottom and top pie crusts.
FILLING DIRECTIONS
Combine dry ingredients and add to apples, toss and mix
Fill pastry-lined plate with all of the apple mixture.
Dot apples with butter or margarine.
Place top crust over apples. Cut slits on top crust; flute edges of crust; sprinkle sugar on top crust
To prevent over-browning, cover edges of pie with aluminum foil
Bake pie at 375 degrees for 25 minutes; remove foil; bake for an additional 20-25 minutes; cool.
NoMayo https://nomayo.us/