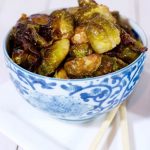 Asian Brussels Sprouts
2019-05-31 09:21:52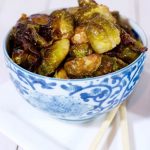 Nutrition Facts
Amount Per Serving
* Percent Daily Values are based on a 2,000 calorie diet. Your Daily Values may be higher or lower depending on your calorie needs.
Ingredients
1 lb Brussels Sprouts
1/4 cup soy sauce*
1 TB Rice Vinegar
2 TB Mirin (Sweet Japanese cooking wine, my husband's "secret" ingredient for making vegetables taste amazing)
Instructions
Rinse brussels sprouts and pat dry.
Cut of the ends of the sprouts and score the bottom (cutting an 'x' into the bottom to allow flavors to be better absorbed).
Add brussels sprouts to a mixing bowl with soy sauce, mirin, and rice vinegar. Toss to coat completely.
Spread brussels sprouts on a baking sheet and bake at 350° for 20 minutes.
Notes
I haven't made this yet (6/19)
NoMayo https://nomayo.us/