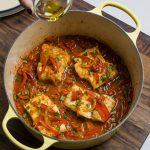 Braised Cod Peperonata
2019-05-31 09:30:51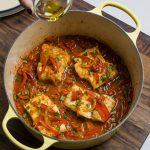 Nutrition Facts
Amount Per Serving
* Percent Daily Values are based on a 2,000 calorie diet. Your Daily Values may be higher or lower depending on your calorie needs.
Ingredients
2 tablespoons extra-virgin olive oil, plus extra for serving
1 onion, halved and sliced thin
2 red bell peppers, stemmed, seeded, and sliced thin
Salt and pepper
4 garlic cloves, minced
2 teaspoons paprika
1 (14.5 ounce) can diced tomatoes, drained
1/2 cup dry white wine
1/4 teaspoon dried thyme or 1 teaspoon minced fresh
4 (6- to 8-ounce) skinless cod fillets, 1 to 1 1/2 inches thick
2 tablespoons chopped fresh basil
Instructions
Heat oil in Dutch oven over medium heat until shimmering. Add onion, bell peppers, and 1/2 teaspoon salt and cook until vegetables are softened, about 5 minutes. (You can undercook the vegetables because they will have more time to cook later.)
Stir in garlic and paprika and cook until fragrant, about 30 seconds.
Stir in tomatoes, wine, and thyme and bring to simmer.
Season cod with salt and pepper. Nestle cod into pot and spoon some of sauce over fish.
Cover, reduce heat to medium-low, and cook until fish flakes apart when gently prodded with paring knife and registers 140 F, about 10 minutes.
Season sauce with salt and pepper to taste. Sprinkle with basil before serving.
Notes
I made this several times. It is quite delicious and easy to prepare.
Adapted from America's Test Kitchen
Adapted from America's Test Kitchen
NoMayo https://nomayo.us/