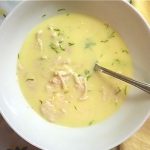 Lemon Rice Soup
2018-02-27 15:58:55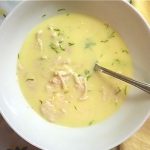 This is my go-to recipe
Nutrition Facts
Amount Per Serving
* Percent Daily Values are based on a 2,000 calorie diet. Your Daily Values may be higher or lower depending on your calorie needs.
Ingredients
1 medium onion, diced
2 tbsp extra virgin olive oil
1 (32-oz) carton chicken stock
5 cups water
1 cup arborio or white rice, uncooked
2 eggs
Meat from 1 rotisserie chicken, cut into ½-inch pieces
Juice of 2 lemons
Dash of ground white pepper
Instructions
Heat a large saucepan or Dutch oven over medium heat.
Saute the onion in olive oil until soft but not brown.
Add chicken stock and water, and bring to a boil.
Add rice and cook about 20 minutes, until rice is fully cooked and grains are expanded.
Crack eggs into a large heatproof mixing cup, then whisk until blended.
Ladle 1 cup of the hot broth into the eggs, then quickly whisk or use an immersion blender to combine.
Add the hot broth and eggs back to the soup, then add the diced chicken, lemon juice and white pepper.
Stir to incorporate, heat through, then ladle into bowls.
Adapted from Costco Magazine
Adapted from Costco Magazine
NoMayo https://nomayo.us/