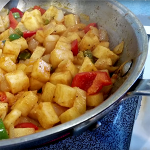 Jicama Hash
2018-02-27 15:41:12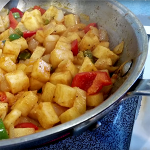 Nutrition Facts
Amount Per Serving
* Percent Daily Values are based on a 2,000 calorie diet. Your Daily Values may be higher or lower depending on your calorie needs.
Ingredients
1 jicama diced into cubes
Chopped onion
Chopped bell peppers
Chopped hot pepper
Finely chopped garlic
Seasonings
Salt (for jicama)
Paprika
Chipotle
Garlic powder
Black pepper
Sometimes I use Italian seasoning
Instructions
Buy jicama with an unblemished, unbroken skin, one that seems heavy for its size since jicama is mostly water.
Wash and cut the skin of the jicama off with a knife.
Dice jicama into cubes and toss in a bowl with salt and set aside.
Heat oil in a skillet and add in the onion, peppers, and garlic.
Sauté for 2-3 minutes and then add seasonings to taste, but don't be shy.
Continue sautéing another 2-3 minutes.
Dry salted jicama with a paper towel and add into the skillet.
Sauté jicama with the other ingredients as desired.
Once the jicama is heated through, the dish is ready.
NoMayo https://nomayo.us/