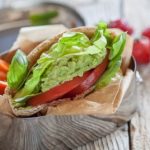 Avocado Pita Pockets
2018-07-31 17:34:51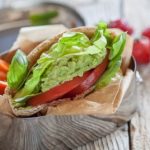 Nutrition Facts
Amount Per Serving
* Percent Daily Values are based on a 2,000 calorie diet. Your Daily Values may be higher or lower depending on your calorie needs.
Ingredients
1 large ripe avocado
1 tablespoon red wine vinegar
Pinch fine sea salt
Pinch ground black pepper
4 butter lettuce leaves
1/4 cup fresh basil leaves
2 medium tomatoes, each cut into 4 slices
Instructions
In a small bowl, mash avocado with vinegar, salt and pepper until smooth.
Cut pita pockets in half. Stuff pita pockets with lettuce leaves and basil. Evenly divide avocado mixture between pita pockets, spreading it on the lettuce leaves. Add 2 tomato slices to each pocket.
NoMayo https://nomayo.us/