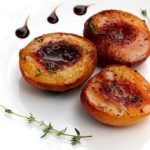 Broiled Honey-Thyme Peaches with Balsamic Glaze
2018-08-23 18:27:03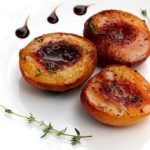 Serves 8
Nutrition Facts
Amount Per Serving
* Percent Daily Values are based on a 2,000 calorie diet. Your Daily Values may be higher or lower depending on your calorie needs.
Ingredients
4 tablespoons salted butter, melted
4 peaches, washed, halved and pitted
¼ cup honey
¼ teaspoon freshly ground black pepper
1 teaspoon fresh thyme leaves
1 pint vanilla ice cream
1-2 tablespoons balsamic glaze or aged balsamic vinegar
Instructions
Position a rack in the middle of the oven and turn the broiler to high.
Butter a broiler-safe 9-by-13-inch baking dish. Place peach halves cut side down in the dish. Broil until browned in spots, about 3 minutes, watching carefully to keep them from burning. Turn each peach over and drizzle with the melted butter and the honey. Sprinkle with the black pepper. Broil until browned and bubbling, about 4 to 5 more minutes. Remove from the oven and sprinkle with the thyme.
If serving as a dessert, scoop ice cream into bowl. Divide the peaches and the pan juices over the ice cream. Drizzle with balsamic glaze and serve.
You can also serve this as a side dish to grilled pork, chicken or fish minus without the ice cream.
I made this on the grill (no baking dish)
• Cook face-down on indirect heat for 8 minutes
• Flip over and drizzle with honey
• Grill for a few more minutes.
• Skip the balsamic glaze and serve with vanilla bean ice cream
Adapted from Magnolia Table: A Collection of Recipes for Gathering" by Joanna Gaines
Adapted from Magnolia Table: A Collection of Recipes for Gathering" by Joanna Gaines
NoMayo https://nomayo.us/