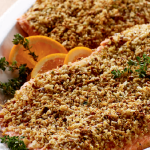 Baked Salmon with Orange Pistachio Crust
2018-03-22 19:36:03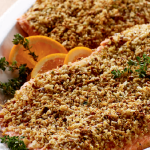 Nutrition Facts
Amount Per Serving
* Percent Daily Values are based on a 2,000 calorie diet. Your Daily Values may be higher or lower depending on your calorie needs.
Ingredients
2-4 pounds fresh Atlantic salmon fillet
1 cup (or more) ground pistachios
1 cup panko breadcrumbs
1 teaspoon fresh thyme leaves
Zest of 1 orange
Olive oil
Ground sea salt
Ground pepper
Instructions
Preheat oven to 350 F.
Blot salmon well with absorbent paper.
Place on an oiled baking pan, skin side down,and set aside.
In a small bowl, mix pistachios, panko, thyme leaves and orange zest.
Add olive oil to bind; season to taste with salt and pepper.
Pat nut mixture on top of salmon fillet, covering entire surface.
Bake fish for 15 minutes for medium or 20 minutes for medium well.
Make sure the fish reaches an internal temperature of 145 F before removing from the oven.
NoMayo https://nomayo.us/