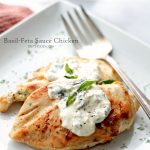 Basil-Feta Sauce Chicken
2018-03-22 19:40:41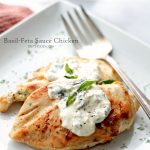 Serves 4
Nutrition Facts
Amount Per Serving
* Percent Daily Values are based on a 2,000 calorie diet. Your Daily Values may be higher or lower depending on your calorie needs.
Ingredients
FOR THE CHICKEN
3 tablespoons olive oil
2 yellow onions, sliced
1 garlic clove, minced
2 tablespoons olive oil
12-ounces (about 4) chicken breasts
salt and fresh ground pepper, to taste
FOR THE SAUCE
1 cup crumbled feta cheese
1 tablespoon sliced basil, packed
2-4 garlic cloves, minced
2-4 tablespoons milk
salt and fresh ground pepper, to taste
pinch sugar
pinch chili powder
Instructions
Pound chicken breasts to an even thickness; do not pound thin.
In a nonstick skillet heat olive oil over medium-high heat.
Add onions and cook for 3 to 4 minutes, or until translucent.
Stir in garlic and continue to cook for about 30 seconds, or until fragrant.
Transfer to serving plate and set aside.
Season chicken breasts with salt and pepper.
Place skillet over medium-high heat and add 2 tablespoons olive oil.
When oil is hot, add chicken breasts to skillet and cook 7 minutes; flip and continue to cook for 5 to 6 minutes or until thoroughly cooked and browned on both sides.
Remove from skillet and transfer to serving plate over bed of onions. Keep covered and warm; set aside.
MAKE THE SAUCE
Set up a double boiler by adding an inch of water to a small pot.
Bring water to a rapid boil and lower to medium-heat.
Combine all the sauce ingredients in a mixing bowl that is larger than the small pot.
Set the bowl over the pot, making certain that the bowl can't touch the water.
Mix and stir until sauce is smooth and creamy; about 3 to 4 minutes.
If it's too thick (it should be slightly pourable) add a tablespoon of milk.
Taste and adjust accordingly.
Remove from heat and pour sauce over prepared chicken breasts.
Serve.
Notes
Pound chicken pieces so that they are all about the same size. Do not pound them thin!
Adapted from Macedonian
Adapted from Macedonian
NoMayo https://nomayo.us/