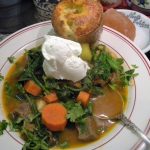 Beef or Lamb and Chickpea Stew
2018-03-26 14:45:38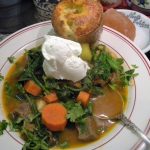 Serves 4
Nutrition Facts
Amount Per Serving
* Percent Daily Values are based on a 2,000 calorie diet. Your Daily Values may be higher or lower depending on your calorie needs.
Ingredients
1 tablespoon sweet paprika
2 tablespoons ground cumin
1 teaspoon ground cardamom
/ teaspoon ground cinnamon
2 teaspoons kosher salt
/ teaspoon ground black pepper
1 / pounds boneless lamb shoulder roast or boneless beef roast, trimmed of fat and cut into 3/4 inch pieces
1 head garlic
2 tablespoons butter
1 large yellow onion
2 tablespoons tomato paste
6 cups water
/ pound carrots, halved and cut crosswise into 1/2 inch pieces
15 / -ounces canned chickpeas, drained
3 cups baby spinach
1 cup fresh cilantro, chopped (can use flat-leaf parsley)
3 tablespoons fresh lemon juice
Whole milk yogurt or sour cream to serve (optional)
Instructions
In a bowl, stir together the paprika, cumin, cardamon, cinnamon, salt and pepper. Reserve half of the spice mixture, then toss the lamb or beef with the remaining spice mixture until well coated. Cut off and discard the top third of the garlic head, leaving the coves intact.
In a Dutch oven over medium-high heat, melt the butter. Add the onions and cook, stirring often, until softened and just beginning to brown around the edges, 5 to 8 minutes.
Add the tomato paste and the reserved spice mixture, then cook, stirring constantly, for 1 minute. Add the water and bring to a boil over high heat, then add the lamb or beef and the garlic head, cut side down. Cover, leaving the lid slightly ajar, and reduce heat to low.
Simmer for 1 hour, adjusting the heat as necessary to maintain a gentle bubble. Add the carrots and continue to simmer, partially covered, for another 30 minutes.
Using tongs, remove the garlic head and squeeze over the stew to release the cloves. Stir in the chickpeas and the spinach and cook until the spinach is wilted, about 5 minutes.
Stir in the cilantro and lemon juice, then adjust seasoning with salt and pepper. Top with a dollop of sour cream or yogurt and sprinkle with chopped cilantro if desired.
Adapted from Recipe from Milk Street magazine
Adapted from Recipe from Milk Street magazine
NoMayo https://nomayo.us/