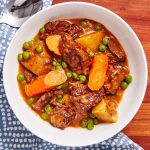 Beef Stew
2020-02-16 15:50:01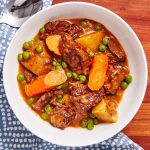 Nutrition Facts
Amount Per Serving
* Percent Daily Values are based on a 2,000 calorie diet. Your Daily Values may be higher or lower depending on your calorie needs.
Ingredients
3 tbsp. canola oil
3 lb. beef stew meat, cut into bite-size pieces
Kosher salt
Freshly ground black pepper
1 large yellow onion, diced
6 cloves garlic, crushed
2 tbsp. tomato paste
5 bay leaves
1 1/2 lb. Yukon Gold potatoes, cut into 1 1/2" pieces
4 large carrots, cut into 2" pieces
3 tbsp. all-purpose flour
1 (10-oz.) bag frozen peas
Instructions
Turn Instant Pot to Sauté, then select More. Wait for pot to heat up, then add oil. Add half the stew meat to pot and season with salt and lots of pepper to taste. Cook for 3 to 4 minutes on each side or until browned. Remove meat from pot. Repeat with remaining meat.
Cook onion and garlic until deeply golden. Add tomato paste and cook, mixing constantly until darkened in color and starts sticking to pot, about 4 minutes. Deglaze with 2 cups water.
Place all meat into pot along with bay leaves, potatoes, and carrots. Stir to combine.
Seal Instant Pot and set to Manual High Pressure for 25 minutes. (Carrots and potatoes were a little overcooked. I'm going to try 20 minutes next time)
Follow manufacturer's guide for quick release, making sure to wait until cycle is complete before unlocking and removing lid.
In a small bowl, whisk together 1 cup cooking liquid and flour. Stir mixture back into pot and set Instant Pot to Sauté. Simmer for 3 minutes, until slightly thickened.
Stir peas into pot and simmer for 3 to 5 minutes more until peas are bright green. Season with salt and pepper, if needed.
Notes
From Delish.com
Adapted from Delish
Adapted from Delish
NoMayo https://nomayo.us/