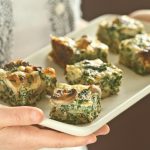 Spinach, Mushroom and Swiss Crustless Quiche Squares
2020-01-21 12:46:49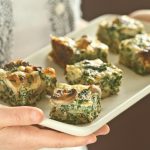 Nutrition Facts
Amount Per Serving
* Percent Daily Values are based on a 2,000 calorie diet. Your Daily Values may be higher or lower depending on your calorie needs.
Ingredients
Canola spray oil
1 tablespoon extra-virgin olive oil, divided
1 medium yellow onion, thinly sliced
1 pound white button mushrooms, thinly sliced
3/4 teaspoon fine sea salt, divided
6 eggs
3/4 cup reduced-fat (2%) milk
1 teaspoon grated nutmeg
1 1/2 cup shredded Swiss cheese
1 (16.0-ounce) bag frozen chopped spinach, thawed and squeezed to remove as much liquid as possible
1/2 teaspoon ground black pepper, divided
Instructions
Preheat the oven to 350°F and lightly oil a 9-inch square pan with spray oil; set aside.
Heat olive oil in a large skillet over medium-high heat.
Add onion and cook until golden brown, 7 to 8 minutes.
Add mushrooms, 1/2 teaspoon of the salt and 1/4 teaspoon of the pepper and cook until liquid is absorbed, 10 to 12 minutes; set aside to cool.
In a large bowl, whisk together eggs, milk, nutmeg and remaining 1/4 teaspoon salt and 1/4 teaspoon pepper.
Add cooked vegetables, cheese and spinach and mix well.
Transfer to prepared pan, spread out evenly and bake until set in the middle and golden brown, about 45 minutes. Let cool 10 or 15 minutes; cut into 24 squares and serve.
Notes
I haven't made this.
Adapted from Whole Foods
Adapted from Whole Foods
NoMayo https://nomayo.us/