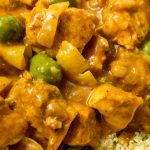 Moroccan Chicken Tagine with Olives
2019-03-29 10:54:27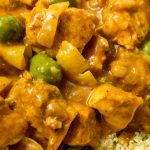 Nutrition Facts
Amount Per Serving
* Percent Daily Values are based on a 2,000 calorie diet. Your Daily Values may be higher or lower depending on your calorie needs.
Ingredients
1 teaspoon paprika
1/2 teaspoon cayenne pepper
1 teaspoon ground cumin
1/2 teaspoon turmeric
1-1/2 teaspoons salt
1/4 teaspoon freshly ground black pepper
3 pounds chicken breasts and thighs, cut into large equal-sized pieces
2 tablespoons olive oil
1 large onion, thinly sliced
3 cloves garlic, minced
1 teaspoon minced fresh ginger
2 tablespoons all-purpose flour
1 cup chicken broth
3 small preserved lemons, cut into quarters
3/4 cup Castelvetrano olives
1 tablespoon harissa, or another type of chili-garlic sauce
1 tablespoon honey
1/4 cup chopped fresh parsley
couscous (follow directions on box)
Instructions
In a large bowl, combine the paprika, cayenne pepper, cumin, turmeric, salt and pepper.
Toss in spice mixture until the chicken is completely coated. Allow the chicken to sit in the spice rub for 15 minutes.
Heat oil in a cast iron casserole dish. Add chicken and brown on all sides.
Once browned, remove the chicken from the casserole dish and set aside.
Add onion and saute until the onions are translucent.
Reduce the heat to medium. Add garlic and ginger and cook 1 minute.
Add flour and stir.
Add the broth, scraping up all of the browned bits.
Return chicken to the pan.
Add the lemon, olives, harissa and honey.
Cover and simmer over low heat for 45 minutes.
Serve over couscous and top with fresh parsley.
Notes
It looks good, but I haven't tried it. (3/29/19)
Adapted from thanksgiving.com
NoMayo https://nomayo.us/