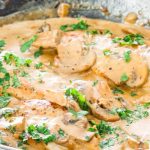 Chicken in White Wine Sauce with Mushrooms
2019-03-29 10:36:59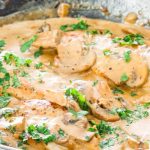 Serves 4
Nutrition Facts
Amount Per Serving
* Percent Daily Values are based on a 2,000 calorie diet. Your Daily Values may be higher or lower depending on your calorie needs.
Ingredients
2 tbsp butter unsalted
1 lb chicken breasts boneless and skinless, cut in half laterally
salt and pepper to taste
1 medium onion chopped
3 cloves garlic minced
12 oz white mushrooms sliced
1 tbsp all-purpose flour (I skip the flour)
1/4 cup white wine
3/4 cup half and half
parsley for garnish
Instructions
Add the butter to a large skillet and melt over medium high heat.
Season chicken breasts on both sides with salt and pepper. Place chicken breasts in skillet and cook on both sides, about 5 min per side or until no longer pink inside. Remove chicken from skillet.
Add onion and garlic to skillet and cook for a couple minutes until onion is translucent and soft. Add mushrooms and stir. Season mushrooms generously with salt and pepper. Let cook for about 5 minutes, stirring occasionally. When mushrooms are cooked to your liking sprinkle the flour (see notes) over the mushrooms and stir. Add wine and cook off the wine for a couple more minutes. Add half and half, stir and cook for 3 minutes, stirring occasionally or until sauce reduces a bit and thickens.
Garnish with parsley and serve hot.
Notes
The flour tends to make it gummy. I don't plan to add it going forward)
I serve this on a bed of Near East Great Grains. It would be good over couscous or orzo, too. It would be fine on its own served with a nice crusty bread.
Adapted from jocooks.com
Adapted from jocooks.com
NoMayo https://nomayo.us/