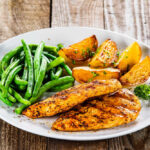 Skillet Chicken and Wedge Potatoes
2021-01-27 12:38:47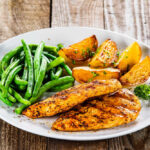 Nutrition Facts
Amount Per Serving
* Percent Daily Values are based on a 2,000 calorie diet. Your Daily Values may be higher or lower depending on your calorie needs.
Ingredients
1 pound skinless and boneless chicken breast, sliced into medallions
INGREDIENTS*
1 teaspoon smoked paprika
1/2 teaspoon Italian seasoning
1/4 teaspoon salt
2 tablespoons olive oil, separated
FOR POTATOES
1 tablespoon olive oil
1 tablespoon unsalted butter, melted
8 cloves garlic, chopped
12 ounces potatoes, cut into wedges
1/4 teaspoon salt
3 dashes Italian seasoning
1 teaspoon fresh rosemary, roughly chopped, optional
1 tablespoon olive oil
1 tablespoon unsalted butter, melted
*GREEK, CAJUN OR OTHER SPICE MIX IS BETTER ALTERNATIVE FOR CHICKEN
Instructions
In a ziploc, marinate the chicken with the smoked paprika, Italian seasoning, salt, and 1 tablespoon of olive oil. Stir to mix well and set aside.
Heat up a cast-iron skillet on medium-low heat. Add the olive oil and butter, follow by the garlic, potatoes, and the rest of the ingredients. Cook the potatoes wedges until the outside is browned and the inside is cooked through about 10-15 minutes. Dish out and set aside.
In the same skillet on medium heat, add the remaining tablespoon of olive oil. Pan-fry the chicken, each side for about 4-5 minutes.
Push the chicken to one side and add the potatoes. Add salt to taste. Turn off the heat and serve the chicken and potatoes immediately
Notes
I made this in January, 2021. The potatoes are good, but the chicken was a little bland. I'd change the spice. Good the next day, too.
NoMayo https://nomayo.us/