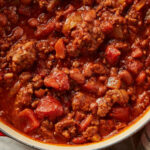 Chili con Carne
2021-05-16 12:13:37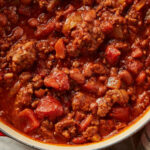 This was provided by Bob Yanal. I haven't tried it yet (5/21)
Nutrition Facts
Amount Per Serving
* Percent Daily Values are based on a 2,000 calorie diet. Your Daily Values may be higher or lower depending on your calorie needs.
Ingredients
3 Tablespoons extra virgin olive oil
1½ cups large diced onion
½ cup large dice sweet red bell pepper
1-2 medium jalapeños, stems and seeds removed, finely diced
2 Tablespoons garlic, minced
1½ teaspoons ground cumin
2 Tablespoon chili powder
1 teaspoon dry oregano
1½ teaspoons salt
½ teaspoons freshly ground black pepper*
1½ pounds ground beef
1 Tablespoon Worcestershire Sauce
1 28 ounce can whole peeled tomatoes + ½ can fresh water
1 14 ounce can black beans rinsed and drained
1 14 ounce can of kidney beans, rinsed and drained
Flavor Boosters
1 Tablespoon Fish Sauce (Three Crabs is best)
2 teaspoons Cocoa Powder
Instructions
Push the Sauté or Browning button on your Pressure Cooker and allow to heat.
Add oil to the Pressure Cooker cooking pot.
Add ground beef, breaking it up well with a wooden spoon.
Cook until the beef is slightly browned, and then drain fat.
Add onions, bell pepper and jalapeños and sauté for three minutes.
Add garlic, cumin, chili powder, oregano, salt and pepper.
Cook another minute.
Add Worcestershire Sauce, fish sauce & cocoa powder (if using), tomatoes, water and
beans and stir.
Lock the lid on your Pressure Cooker and close the Pressure Value.
Cook on High Pressure and set the time for 10 minutes.
Allow a 10 minute natural release and then quick release.
Serve as it or Select Sauté and allow to simmer for a thicker chili.
Per Bob
For the two of us I use 1 lb ground turkey or beef*, one can of beans.
An instant pot is not necessary. Recipe sez pressure cook 10 minutes. In stove top pot, cook, I'd say, an hour.
*Ground turkey is surprisingly higher in cals than ground beef. 1/4 lb ground turkey = 220 cals. 1/4 lb 93% lean ground beef = 170. Who knew?
NoMayo https://nomayo.us/