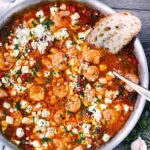 Garides
2021-04-25 08:47:22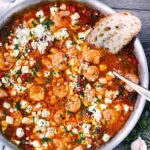 Greek shrimp dish with tomatoes and feta
Nutrition Facts
Amount Per Serving
* Percent Daily Values are based on a 2,000 calorie diet. Your Daily Values may be higher or lower depending on your calorie needs.
Ingredients
1.5 lbs. large raw shrimp peeled and deveined
4 tablespoons extra-virgin olive oil
1/2 teaspoon kosher salt (I skip this ingredient)
1/4 teaspoon black pepper
Juice and zest of one lemon (about 1 teaspoon zest and 2 tablespoons juice)
3 cloves garlic minced
1 small yellow onion diced (or 1/2 large)
1/2 teaspoon crushed red pepper flakes
1 teaspoon dried oregano or 1 tablespoon fresh
28 oz. canned diced tomatoes preferably fire roasted
1/4 cup dry white wine such as sauvignon blanc, chardonnay, or pinot grigio
6 oz. feta cheese crumbled
Bread or pita, for serving (optional)
Instructions
In a small bowl, toss the shrimp with 1 tablespoon of the olive oil, the lemon zest, 1 tablespoon (or half) of the lemon juice, 1 clove of the minced garlic, 1/4 teaspoon of kosher salt (or not), and 1/8 teaspoon black pepper. Stir to coat and set aside.
Sauté the diced onion in 2 tablespoons olive oil over medium-high heat in a large skillet with a cover until softened and starting to brown (about 3 minutes).
Add the remaining 2 cloves minced garlic, crushed red pepper (1/4 teaspoon), and dried oregano (1 teaspoon) to the onions. Stir and continue sautéing until fragrant, about 30 seconds.
Add the white wine (1/4 cup) and remaining lemon juice (about 1 tablespoon) and stir to deglaze, scraping any browned bits from the bottom. Add the diced tomatoes (28 oz.) , and the remaining 1/4 teaspoon kosher salt, and 1/8 teaspoon black pepper to the skillet. Stir and bring to a simmer (you can cover if it gets too bubbly).
Add the shrimp and any juices from the bowl into the tomato mixture and stir together. Cover and simmer for about 5 minutes, or until shrimp are almost cooked.
Sprinkle the crumbled feta (6 oz.) on top and simmer uncovered for another 2-4 minutes, until shrimp are completely cooked and feta has melted (you can add the cover if it's splattering, but simmering uncovered will help it thicken a bit). Drizzle remaining 1 tablespoon of olive oil on top.
Serve, preferably with crusty bread, crostini, pita, rice, or pasta, garnished with fresh parsley if desired.
Notes
I made this April 2021. It's easy and delicious.
Adapted from Bowl of Delicious
NoMayo https://nomayo.us/