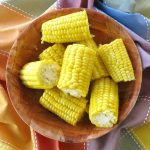 Microwaved Corn on the Cob
2018-05-06 16:29:09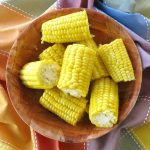 Nutrition Facts
Amount Per Serving
* Percent Daily Values are based on a 2,000 calorie diet. Your Daily Values may be higher or lower depending on your calorie needs.
Ingredients
4 ears of corn
Instructions
Leave the husks on the corn. Trim the fringe.
Place corn on the cob in husk on plate in microwave and follow these cook times
1 ear – 2 minutes
2 ears – 4 minutes
3 ears – 5 minutes
4 ears – 6 minutes
The corn will be very hot when the corn finishes cooking. Use a hand towel to hold the corn if necessary.
Notes
This recipe makes perfect corn. The silk comes off with the husks.
NoMayo https://nomayo.us/