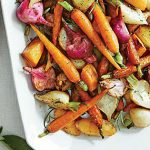 Roasted Root Vegetables
2018-04-13 09:28:03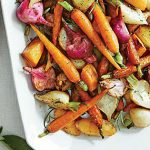 Serves 6
Nutrition Facts
Amount Per Serving
* Percent Daily Values are based on a 2,000 calorie diet. Your Daily Values may be higher or lower depending on your calorie needs.
Ingredients
1 pound turnips
1 pound rutabagas
1 pound carrots
1 pound parsnips
3 shallots, halved
1/2 cup olive oil
2 tablespoons chopped fresh rosemary
2 teaspoons kosher salt
1 teaspoon black pepper
8 garlic cloves
Instructions
Preheat to 400°. Peel first 4 ingredients; cut into 1-inch pieces. (If your carrots are small enough, leave them whole.) Toss with shallots and next 4 ingredients.
Place in a single layer in a 17- x 11-inch jelly-roll pan. Bake 30 minutes, stirring halfway through. Add garlic; bake 45 minutes or until tender, stirring at 15-minute intervals.
Notes
Note: You can prepare 4 hours ahead: Cool in pan 30 minutes or to room temperature; bake at 450° for 10 to 15 minutes or until hot.
Adapted from myrecipes.com
Adapted from myrecipes.com
NoMayo https://nomayo.us/