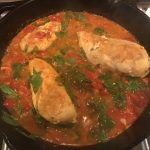 Chicken Breasts With Tomatoes and Capers
2018-05-22 20:15:22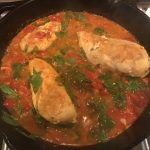 Serves 4
Nutrition Facts
Amount Per Serving
* Percent Daily Values are based on a 2,000 calorie diet. Your Daily Values may be higher or lower depending on your calorie needs.
Ingredients
2 boneless, skinless chicken breasts (about 2 1/4 pounds)
Salt and freshly ground white pepper to taste
1 tablespoon olive oil
3 tablespoons finely chopped shallots
1 teaspoon finely chopped garlic
1 teaspoon dried tarragon
3 ripe plum tomatoes cut into small cubes (or one 28-ounce can of tomatoes, drained and chopped)
¼ cup red wine vinegar
¼ cup drained capers
1 cup dry white wine
2 tablespoons tomato paste
¼ cup chopped fresh parsley leaves
Spinach (optional) for color
Instructions
Sprinkle the chicken with salt and pepper. Heat the oil and butter in a heavy-bottom skillet. Add the chicken breasts and saute over medium-high heat, turning the pieces often until lightly browned, about 5 minutes.
Add the shallots and garlic around the chicken. Cook briefly; add the tarragon, tomatoes, vinegar, capers, wine and tomato paste. Stir to dissolve the brown particles adhering to the bottom of the skillet.
Blend well, bring to a boil, and then cover and simmer for 9 minutes. Sprinkle with parsley and serve.
Notes
This is REALLY good. I added fresh baby spinach for color.
https://cooking.nytimes.com/recipes/4406-chicken-breasts-with-tomatoes-and-capers
Adapted from New York Times
Adapted from New York Times
NoMayo https://nomayo.us/