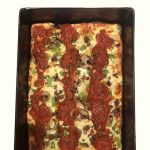 Detroit Pizza with premade dough and sauce
2019-10-31 14:31:46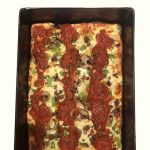 This is a version of Marilyn Mossman's recipe using store-bought ingredients
Nutrition Facts
Amount Per Serving
* Percent Daily Values are based on a 2,000 calorie diet. Your Daily Values may be higher or lower depending on your calorie needs.
Ingredients
One package frozen pizza dough
Top quality pizza sauce
Toppings (e.g., green pepper, onions, mushrooms, Italian sausage, pepperoni)
10 oz. Wisconsin Brick cheese (can substitute with monterey jack)
1 TB olive oil
Instructions
Allow dough to thaw overnight in refrigerator
Spray 13 by 9-inch nonstick baking pan with vegetable oil spray, then brush bottom and sides of pan with oil.
Using your well-oiled hands, press dough into corners of pan. (If dough resists stretching, rest for another 10 min, try again to stretch.) Cover with plastic and let dough rise at room temp until nearly tripled in volume and large bubbles form, 2 to 3 hours.
Adjust oven rack to lowest position and heat oven to 500 degrees.
Sprinkle cheese evenly over dough to edges of pan.
Add toppings.
Spoon three 1-inch-wide strips of sauce, using 1/3 cup sauce for each, over cheese evenly down length of pan.
Bake until cheese is bubbly and browned, about 15 minutes. Let pizza cool in pan on wire rack for 5 minutes. Run knife around edge of pan to loosen pizza. Using spatula, slide pizza onto cutting board. Cut into 8 pieces and serve.
Notes
For a recipe that includes home-made dough and sauce, click here.
NoMayo https://nomayo.us/