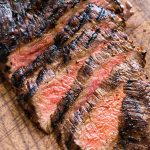 Easy Grilled Flank Steak with Garlic-Herb Sauce
2018-06-26 13:57:26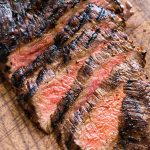 Serves 4
Nutrition Facts
Amount Per Serving
* Percent Daily Values are based on a 2,000 calorie diet. Your Daily Values may be higher or lower depending on your calorie needs.
Ingredients
1 (2-pound) flank steak, trimmed
1 teaspoon sugar
Salt and pepper
1 cup minced fresh flat-leaf parsley
½ cup extra-virgin olive oil
2 tablespoons lemon juice
3 garlic cloves, minced
Instructions
Pat steak dry with paper towels, sprinkle with ¾ teaspoon sugar, and season with salt and pepper. Combine parsley, oil, lemon juice, garlic, remaining ¼ teaspoon sugar, ¼ teaspoon salt, and ¼ teaspoon pepper in small bowl and set aside for serving.
For a gas grill: Turn all burners to high, cover, and heat grill until hot, about 15 minutes.
Leave primary burner on high and turn other burner(s) to medium.
Clean and oil cooking grate. Place steak on hotter side of grill. Cook (covered if using gas) turning as needed, until lightly charred and meat registers 120 to 125 F (for medium-rare),
8 to 12 minutes.
Transfer steak to carving board, tent with aluminum foil, and let rest for 5 to 10 minutes.
Slice steak against grain very thin on bias and serve with garlic-herb sauce.
Notes
For a charcoal grill: Open bottom vent completely.
Light large chimney starter filled withcharcoal briquettes (6 quarts). When top coals are partially covered with ash, pour evenly over half of grill. Set cooking grate in place, cover, and open lid vent completely. Heat grill until hot, about 5 minutes.
Adapted from America's Test Kitchen
Adapted from America's Test Kitchen
NoMayo https://nomayo.us/