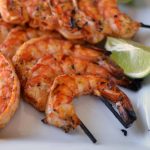 Grilled Lime Shrimp
2018-02-14 20:45:01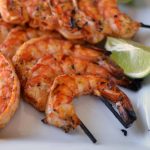 Serves 4
Nutrition Facts
Amount Per Serving
* Percent Daily Values are based on a 2,000 calorie diet. Your Daily Values may be higher or lower depending on your calorie needs.
Ingredients
1/2 teaspoon fresh lime zest
1/4-1/2 teaspoon cumin
1/2 teaspoon dried oregano
1/2-1 teaspoon salt
1/2 teaspoon pepper
2 tablespoons olive oil
2 -3 tablespoons fresh squeezed lime juice
3 cloves garlic, minced
1 lb shelled deveined uncooked shrimp
Instructions
1. Mix together the first 8 ingredients in a bowl.
2. Add shrimp; toss to coat.
3. Let stand at room temperature for 10 minutes to marinate.
4. Thread shrimp on metal skewers; reserve marinade.
5. Place skewered shrimp on grill over medium heat.
6. Cook 3-7 minutes or until shrimp turn pink, turning once and brushing with marinade occasionally.
NoMayo https://nomayo.us/