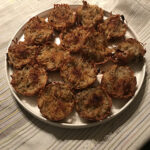 Potato Latke Muffins
2020-12-13 13:14:07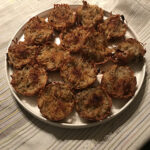 Nutrition Facts
Amount Per Serving
* Percent Daily Values are based on a 2,000 calorie diet. Your Daily Values may be higher or lower depending on your calorie needs.
Ingredients
2 tablespoons vegetable oil
2 medium onions, chopped
1 ¼ teaspoons paprika
1 ¾ pounds baking potatoes, peeled
2 large eggs, lightly beaten
1 teaspoon salt, or to taste
½ teaspoon freshly ground black pepper
Instructions
Preheat oven to 400 degrees. Use a little of the oil to grease a nonstick 12-muffin tin.
Heat 1 tablespoon vegetable oil in a heavy nonstick skillet. Add the onions, and saute over medium heat until softened, about 10 minutes. Stir in 1 teaspoon paprika; remove from heat.
Coarsely grate the potatoes by hand or in a food processor. Put them in a large strainer, and press out excess liquid. Transfer them to a bowl, and stir in the onions, eggs, salt and pepper.
Put a scant 1/3 cup of the potato mixture in each muffin tin. Smooth the tops lightly, brush with the remaining oil and sprinkle with a little paprika. Bake about 40 minutes, until brown at the edges and firm.
Remove the muffins and serve at once, or leave in the pans to keep warm for 15 minutes or so.
Notes
It's tempting to fill the muffin cups, but they'll be crispier if you only fill them half way. Using a mini-muffin pan renders the above suggestion moot.
Adapted from New York Times
Adapted from New York Times
NoMayo https://nomayo.us/