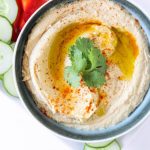 Hummus
2018-02-14 20:53:24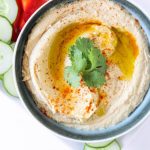 Nutrition Facts
Amount Per Serving
* Percent Daily Values are based on a 2,000 calorie diet. Your Daily Values may be higher or lower depending on your calorie needs.
Ingredients
2 cans chickpeas
4 cloves pressed garlic
1 tsp salt
4 T tahini
1/4 cup olive oil OR plain Greek yogurt and 1/4c lemon juice and pinch of cumin
Instructions
In a large pot, bring 1 cup of water to a boil. Add 2 cans of chickpeas and cook them until very tender, about 10 minutes. Drain and reserve the cooking liquid. Set chickpeas aside. Place the chickpeas in a food processor and mash, adding some cooking liquid if needed. In a separate bowl, mix together 4 cloves pressed garlic, 1 teaspoon salt, 4 tablespoons tahini, 1/4 cup olive oil or plain Greek-style yogurt and 1/4 cup lemon juice and a pinch of cumin, if desired. Add to the mashed chickpeas. Mix well to get a creamy consistency. Add more cooking liquid or yogurt if needed to get a creamy consistency. Transfer to a serving dish. Garnish with a sprinkling of cumin, olive oil and chopped parsley. Serve with pita bread.
NoMayo https://nomayo.us/