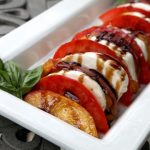 Grilled Peach Caprese
2018-08-23 18:30:00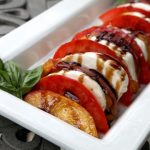 Nutrition Facts
Amount Per Serving
* Percent Daily Values are based on a 2,000 calorie diet. Your Daily Values may be higher or lower depending on your calorie needs.
Ingredients
3 peaches, cut into ¼-inch-thick slices
8 ounce baguette, sliced ¼-inch on the diagonal
Oil for brushing on peaches and bread
3 favorite vine-ripe tomatoes, sliced about ¼-inch thick
6 ounces fresh mozzarella, sliced and halved again
Fresh basil, torn into bite size pieces
Olive oil
Balsamic vinegar or balsamic glaze
Sea salt and fresh ground pepper
Instructions
Preheat the grill to about medium. Brush peaches and bread slices with olive oil. Grill peaches until they just begin to soften and have nice grill marks. Grill the bread slices the same way.
Arrange grilled peach slices, alternating with tomato and mozzarella slices. Add basil and drizzle with olive oil and balsamic vinegar. Season with a few good pinches of sea salt and freshly ground black pepper.
Notes
I haven't made this, but it looks delish.
Adapted from Susan Selasky for the Free Press Test Kitchen
Adapted from Susan Selasky for the Free Press Test Kitchen
NoMayo https://nomayo.us/