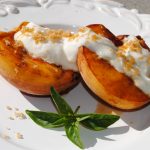 Grilled Peaches with Brown Sugar Balsamic Glaze
2019-01-31 16:21:26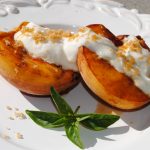 Nutrition Facts
Amount Per Serving
* Percent Daily Values are based on a 2,000 calorie diet. Your Daily Values may be higher or lower depending on your calorie needs.
Ingredients
4 ripe, washed, halved and pitted peaches (Make sure they are still firm. If the peaches are too ripe/soft they will fall apart on the grill)
Balsamic vinegar to taste (about a tablespoon)
Brown sugar to taste (honey works, too)
Olive oil
4 leaves fresh basil, chopped (optional)
Honey Greek Yogurt or Ice Cream
Instructions
Preheat the grill. Drizzle peaches with balsamic vinegar and then sprinkle liberally with brown sugar. Brush the grill with a dab of oil. Place peach halves face-down on the grill. Turn after 3 to 4 minutes, after they've given up the brightness in their color. Sprinkle the flat side (now facing up) with more brown sugar. Remove after another couple of minutes when they're soft all the way through when you poke them with a fork. Garnish with basil on and around the peaches or some more brown sugar. Serve with ice cream or honey flavored greek yogurt.
Notes
I tried this. Deelish!
NoMayo https://nomayo.us/