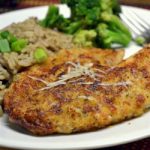 Panko Crusted Baked Tilapia
2019-01-31 16:14:13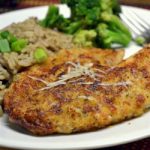 Nutrition Facts
Amount Per Serving
* Percent Daily Values are based on a 2,000 calorie diet. Your Daily Values may be higher or lower depending on your calorie needs.
Ingredients
4 tilapia fillets
1 egg
¼ teaspoon kosher salt
⅛ teaspoon freshly ground black pepper
¾ cup panko bread crumbs
¼ teaspoon garlic powder
½ teaspoon kosher salt
¼ teaspoon freshly ground black pepper
¼ teaspoon paprika
Zest of half a lemon
Instructions
Remove one wire rack from your oven. Lightly coat the wire oven rack with non-stick cooking spray. Set aside.
Preheat oven to 425 degrees F.
In a shallow dish, stir egg, salt, and pepper.
In another shallow dish, mix bread crumbs, garlic powder, salt, pepper, paprika, and lemon zest.
Pat tilapia fillets dry with paper towel, then dip into the egg mixture followed by the crumb mixture.
Use your hands to pack bread crumbs onto the tilapia.
Arrange the fish on a single layer on the rack.
Carefully place rack back into the oven, in the middle position.
Place a sheet pan on the bottom rack to collect any crumbs.
Bake for 18 minutes or until light golden brown.
Serve immediately with lemon wedges.
Notes
The fish is actually baked directly on your oven's wire rack (which has been sprayed with non-stick cooking spray first). This helps air circulate beneath the fish and keeps the bottom crust crunchy and crisp instead of soggy. I like to put a sheet pan under the rack to collect any rogue panko crumbs.
Adapted from thesimplefare (no longer active)
Adapted from thesimplefare (no longer active)
NoMayo https://nomayo.us/