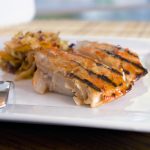 Grilled Red Snapper
2018-04-03 14:45:44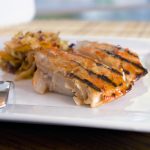 Serves 4
Nutrition Facts
Amount Per Serving
* Percent Daily Values are based on a 2,000 calorie diet. Your Daily Values may be higher or lower depending on your calorie needs.
Ingredients
Nonstick vegetable spray
1 1/2 pounds snapper fillets
1 tablespoon vegetable oil 1/a teaspoon paprika
1/8 teaspoon basil
1/8 teaspoon thyme
1/8 teaspoon oregano
1/8 teaspoon savory
1/8 teaspoon black pepper
Instructions
Preheat broiler. Spray rack and broiler pan with nonstick vegetable spray, set aside.
In a small bowl mix oil with paprika.
Place snapper fillets on broiler rack; using half of the oil/paprika mixture, brush evenly over 4 fillets.
In a small bowl, mix basil, thyme, oregano, savory and black pepper
Sprinkle ¼ teaspoon of herb blend evenly over 4 snapper fillets.
Broil about 4 inches from the heat for 4 to 6 minutes, depending on the thickness of the fillets. Remove from oven.
Turn fish carefully, brush with remaining oil/paprika mixture and sprinkle with remaining herb blend.
Broil until fish flakes very easily with fork, 2-4 minutes.
Notes
This recipe assumes it is being grilled in oven.
NoMayo https://nomayo.us/