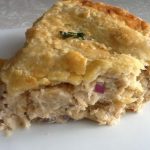 Salmon Pie
2018-04-03 16:16:49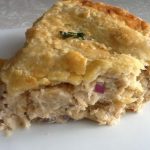 Nutrition Facts
Amount Per Serving
* Percent Daily Values are based on a 2,000 calorie diet. Your Daily Values may be higher or lower depending on your calorie needs.
Ingredients
2 (9-inch) pie crusts
1 15.5 oz can of salmon, drained and flaked (reserve liquid)
2T butter
1/4c chopped onions
1/4c chopped celery
2T flour
1/4t salt
1/2t dried dill weed
milk (see directions)
2c cooked rice
2 hard-cooked eggs, chopped
Instructions
Saute onion, celery in butter, add flour, salt, dill weed
Add enough milk with salmon liquid to equal 3/4c
Blend with other ingredients, cook until thickened
Fold in salmon, rice, eggs
Put into pie crust, brush top with beaten egg yolks
Bake at 425º for 1/2 hour (????)
Let stand for 10+ minutes
Notes
The baking time is suspicious. I'd bake until the top is brown.
NoMayo https://nomayo.us/