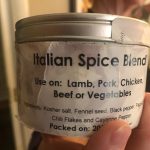 Italian Spice Mix
2019-08-31 12:45:10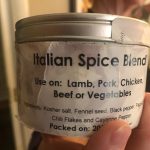 Use as a rub on lamb, pork, chicken, beef or vegetables
Nutrition Facts
Amount Per Serving
* Percent Daily Values are based on a 2,000 calorie diet. Your Daily Values may be higher or lower depending on your calorie needs.
Ingredients
1/4 c fennel seeds
2 tbsp black peppercorns
1 tsp cayenne pepper
2 tbsp sweet paprika
1 1/2 tbsp red chili flakes
1/2 cup kosher salt (Diamond Crystal)
Instructions
Place the fennel and black peppercorns in a spice/coffee grinder and grind until peppercorns are crushed fine.
Transfer ground spice to a bowl and mix with cayenne, sweet paprika, red chili flakes and kosher salt.
Use for lamb, chicken, beef or pork. Or in a tomato sauce.
Adapted from Simply Good Kitchen
Adapted from Simply Good Kitchen
NoMayo https://nomayo.us/