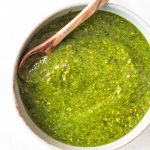 Pistachio Pesto
2019-08-31 12:34:15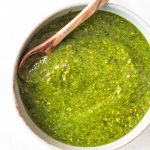 I haven't tried this yet
Nutrition Facts
Amount Per Serving
* Percent Daily Values are based on a 2,000 calorie diet. Your Daily Values may be higher or lower depending on your calorie needs.
Ingredients
2 c. fresh basil
1 c. olive oil
1/2 c. roasted pistachio nuts
1 tbsp fresh garlic (approx 3 cloves)
Instructions
Place the dry ingredients in a blender and puree until smooth, then add oil, adding more if necessary.
Taste to check seasoning; you may need to add kosher salt depending on how salty the pistachios are.
Notes
I haven't tried this. It is recommended as a topping for rack of lamb.
Adapted from Simply Good Kitchen
Adapted from Simply Good Kitchen
NoMayo https://nomayo.us/