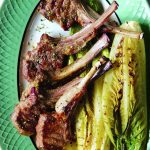 Lemon-Garlic Marinated Lamb Chops
2018-03-09 15:53:35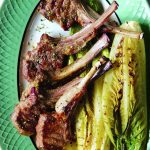 Serves 4
Nutrition Facts
Amount Per Serving
* Percent Daily Values are based on a 2,000 calorie diet. Your Daily Values may be higher or lower depending on your calorie needs.
Ingredients
1 Tb. olive oil
2 Tbs. fresh lemon juice
Y2 tsp. finely grated lemon zest
2 Tbs. chopped fresh oregano or
2 tsps. dried
6 cloves garlic, minced (about
2 Tbs.)
Y2 tsp. salt
V4 tsp. freshly ground black pepper
Eight 4-ounce lamb loin chops, trimmed of all visible fat
Instructions
In a small bowl, stir together the oil, lemon juice and zest, oregano, garlic, salt and pepper.
Put the lamb chops in a sealable plastic bag and pour the marinade over them.
Move the chops around in the bag so the marinade coats them well.
Seal the bag and marinate for 20 minutes to 1 hour at room temperature.
Remove the chops from the marinade and discard the marinade.
Grill or broil the chops for 4-5 minutes per side for medium rare or to your desired degree of doneness.
NoMayo https://nomayo.us/