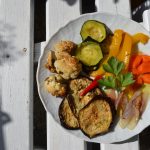 Marinated Asparagus
2018-03-10 15:20:46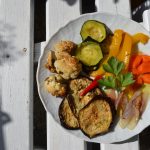 Nutrition Facts
Amount Per Serving
* Percent Daily Values are based on a 2,000 calorie diet. Your Daily Values may be higher or lower depending on your calorie needs.
Ingredients
2 cloves garlic, minced
1/4 cup balsamic vinegar
1 tablespoon Worcestershire sauce
1 tablespoon chopped fresh rosemary
1 tablespoon chopped fresh thyme
1 tablespoon chopped fresh oregano
Zest of l lemon
Salt and ground black pepper to taste
Instructions
Bring a large pot of salted water to a boil. Set a bowl of ice water next to the stove. Add the asparagus to the boiling water and blanch for 3 to 4 minutes or until just tender. Remove from the pot and set in the ice water just until cool. Drain well in a shallow dish, combine the garlic, vinegar, worcestershire, rosemary, thyme, oregano and zest. Season with salt and pepper, then add the asparagus. Toss to coat and marinate for 2 hours.
Notes
An antipasti platter doesn't have to be a selection of cheese and fatty cured meats. You can make a delicious and beautiful one from the many colors of the vegetable garden.
Marinating the vegetables brings out a whole host of bright flavors. Serve them with rustic bread for sopping up the flavorful marinade. You can also include a hunk of Parmesan cheese on your platter; a small piece goes a long way
Other nice -- and healthy -- additions to an antipasti platter are anchovies and olives. Like Parmesan, they add a pungent, salty element that contrasts nicely with the vegetables.
The vegetables can be marinated at room temperature or in the refrigerator. If in the refrigerator, allow them to come to room temperature before serving.
NoMayo https://nomayo.us/