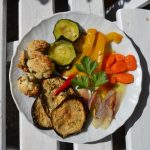 Marinated Mushrooms
2018-03-10 15:18:26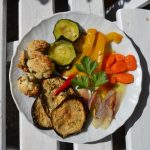 Nutrition Facts
Amount Per Serving
* Percent Daily Values are based on a 2,000 calorie diet. Your Daily Values may be higher or lower depending on your calorie needs.
Ingredients
1 tablespoon extra-virgin olive oil
8 ounces white button mushrooms
2 cloves garlic, peeled, minced
2 tablespoons white balsamic vinegar
2 tablespoons white wine
2 tablespoons chopped fresh thyme
1 tablespoon chopped fresh oregano
Salt and ground black pepper to taste
Instructions
In a large skillet over medium-high, heat the oil Add the mushrooms and sauté for 3 minutes. Add the garlic and sauté for another 3 minutes. Add the vinegar and wine. Remove from the heat and stir in the thyme and oregano. Season with salt and pepper marinate for 2 hours.
Notes
An antipasti platter doesn't have to be a selection of cheese and fatty cured meats. You can make a delicious and beautiful one from the many colors of the vegetable garden.
Marinating the vegetables brings out a whole host of bright flavors. Serve them with rustic bread for sopping up the flavorful marinade. You can also include a hunk of Parmesan cheese on your platter; a small piece goes a long way
Other nice -- and healthy -- additions to an antipasti platter are anchovies and olives. Like Parmesan, they add a pungent, salty element that contrasts nicely with the vegetables.
The vegetables can be marinated at room temperature or in the refrigerator. If in the refrigerator, allow them to come to room temperature before serving.
NoMayo https://nomayo.us/