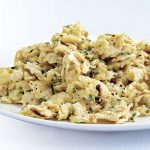 Matzo Brie
2018-03-23 08:23:20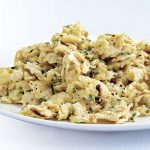 Serves 2
Nutrition Facts
Amount Per Serving
* Percent Daily Values are based on a 2,000 calorie diet. Your Daily Values may be higher or lower depending on your calorie needs.
Ingredients
2 eggs
1/2c milk
1/4t salt
Dash of cinnamon
1T sugar
2 matzos
3T shortening or butter
Instructions
Beat eggs, add milk, salt and seasoning
Break matzo into the bowl and stir
Pour mixture into hot fat in large frying pan. Cover
Cook over moderate heat for about 10 minutes or until browned on one side
Turn over and brown other side (uncovered). About 3 minutes.
Sprinkle with sugar and cinnamon
Notes
I always double or triple the recipe.
NoMayo https://nomayo.us/