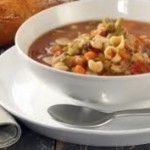 Salvatore Scallopini Minestrone Soup
2018-03-26 15:50:45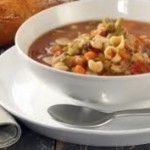 Serves 8
Nutrition Facts
Amount Per Serving
* Percent Daily Values are based on a 2,000 calorie diet. Your Daily Values may be higher or lower depending on your calorie needs.
Ingredients
1 tablespoon olive oil
1 medium onion, chopped
4 garlic cloves, minced
1 teaspoon dried oregano
2 medium yellow squash, chopped
2 medium zucchini, chopped
1 carrot, peeled and chopped
1 14.5-ounce can diced tomatoes
1 14.5-ounce can tomato puree
1 11.25-ounce can of Bean with Bacon soup
8 cups chicken broth
1/2 cup uncooked ditalini or other small tubular pasta
1 15.5-ounce can Great Northern or cannelini beans, rinsed and drained
2 large handfuls fresh spinach, roughly chopped
¼ teaspoon crushed red pepper flakes
1 teaspoon salt
Freshly ground black pepper
Parmesan or Asiago cheese
Instructions
Heat oil in a Dutch oven over medium-high heat. Add onion, garlic and oregano; sauté 5 minutes or until onion is soft. Stir in squash, zucchini and carrot; sauté 7 minutes or until vegetables are crisp tender. Add diced tomatoes, tomato puree, broth, bean/bacon soup; bring mixture to a boil.
Reduce heat, and simmer 20 minutes.
Add pasta, beans, spinach, crushed red pepper flakes, salt and several grinds of back pepper; cook 12-14 minutes or until pasta is tender, stirring occasionally.
Serve with grated Parmesan cheese.
Adapted from Amy Tobin
Adapted from Amy Tobin
NoMayo https://nomayo.us/