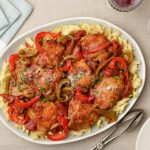 Chicken Cacciatore
2018-03-26 15:40:46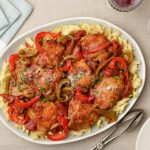 Serves 2
Nutrition Facts
Amount Per Serving
* Percent Daily Values are based on a 2,000 calorie diet. Your Daily Values may be higher or lower depending on your calorie needs.
Ingredients
1/3 cup chopped onion
1 clove garlic, chopped
1/3 cup chopped green bell pepper
3/4 pound chicken meat, cooked and cubed
1/2 cup whole peeled tomatoes
1/2 cup green beans
1/4 teaspoon dried oregano
Instructions
In a large skillet, saute onion, garlic and bell pepper until soft. Add chicken, then stir in tomatoes, beans and oregano.
Reduce heat to medium low and simmer for 8 to 10 minutes, stirring constantly. Remove from heat and serve hot.
NoMayo https://nomayo.us/