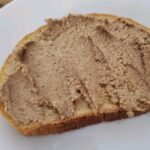 Mock Chopped Liver
2020-07-25 12:34:53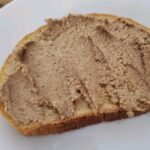 This is a delicious alternative to liver-based chopped-liver recipes
Nutrition Facts
Amount Per Serving
* Percent Daily Values are based on a 2,000 calorie diet. Your Daily Values may be higher or lower depending on your calorie needs.
Ingredients
2 cups water
1 cup lentils
2 cubes chicken bouillon
1 teaspoon extra virgin olive oil
1 large onion, chopped
1 cup walnuts
4 hard cooked eggs
salt and pepper to taste
Instructions
Place water, lentils, and bouillon cubes in a pot. Cover pot and cook about 30 minutes or until tender. Drain well.
Heat oil in skillet, saute onion until it becomes translucent.
In a food processor, grind lentils, onions, walnuts and eggs until your desired consistency for the pate is reached. Season to taste with salt and pepper. Chill before serving.
NoMayo https://nomayo.us/