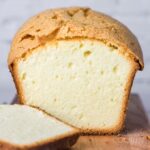 Elvis Presley's Pound Cake
2020-07-25 12:37:38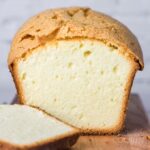 Nutrition Facts
Amount Per Serving
* Percent Daily Values are based on a 2,000 calorie diet. Your Daily Values may be higher or lower depending on your calorie needs.
Ingredients
1 cup unsalted butter softened, plus additional for buttering pan
3 cups sifted cake flour not self-rising; sift before measuring plus additional for dusting
3/4 teaspoon salt
3 cups sugar
7 large eggs at room temperature 30 minutes
2 teaspoons pure vanilla extract
1 cup heavy whipping cream
Instructions
Put oven rack in middle position, but do not preheat oven.
Generously butter two 8x4 loaf pans and dust with flour, knocking out excess flour. (Be sure to read NOTES if using 9x5 loaf pans)
Sift together sifted flour and salt into a bowl. Repeat sifting into another bowl (flour will have been sifted 3 times total, once by itself and twice with the salt).
Beat together butter and sugar in a large bowl with an electric mixer at medium-high speed until pale and fluffy, about 5 minutes in a stand mixer fitted with paddle attachment, or 6 to 8 minutes with a handheld mixer.
Add eggs one at a time, beating well after each addition, then beat in vanilla.
Reduce speed to low and add half of flour, then all of cream, then remaining flour, mixing well after each addition.
Scrape down side of bowl, then beat at medium-high speed 5 minutes. Batter will become creamier and satiny.
Spoon batter into pan and rap pan against work surface once or twice to eliminate air bubbles.
Place pan in (cold) oven and turn oven temperature to 350°F. Bake until golden and a wooden pick or skewer inserted in middle of cake comes out with a few crumbs adhering, 75-85 minutes.
Cool cake in pan on a rack 30 minutes. Run a thin knife around inner and outer edges of cake, then invert rack over pan and invert cake onto rack to cool completely.
Notes
The trick to this batter is beating it the full length of time specified. So when it says 5 minutes, set a timer for 5 minutes.
Be sure to sift the flours as indicated in the recipe. Sift them 3 times as directed.
Butter should be softened to room temperature. This means take the butter out of the fridge 20 minutes before you will need it. You should be able to make a small indent in the butter, but your finger should not go "into" the butter.
We use 8x4 sized loaf pans. If you want to make these in 9x5 loaf pans, reduce the baking time by ten minutes.
NoMayo https://nomayo.us/