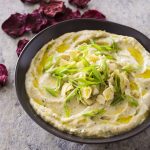 Navy Bean and Artichoke Dip
2019-05-31 09:35:53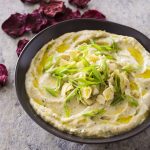 Nutrition Facts
Amount Per Serving
* Percent Daily Values are based on a 2,000 calorie diet. Your Daily Values may be higher or lower depending on your calorie needs.
Ingredients
1 teaspoon grated lemon zest plus 2 tablespoons juice
1 small garlic clove, minced
1 (15-ounce) can navy beans, 2 tablespoons liquid reserved, beans rinsed
1 cup jarred whole artichoke hearts packed in water, rinsed and patted dry, 2 tablespoonschopped
1/4 cup fresh parsley leaves
1 scallion, white and light green parts cut into 1/2-inch pieces, dark green part sliced thin on bias
Salt
1/4 teaspoon ground fennel
Pinch cayenne pepper
1/4 cup organic plain 2 percent Greek yogurt
Cold-pressed extra-virgin olive oil
Instructions
Combine lemon zest and juice and garlic in bowl and let sit for 15 minutes.
Pulse garlic-lemon juice mixture, beans, their reserved liquid, whole artichoke hearts, parsley, white and light green scallion pieces, 3/4 teaspoon salt, fennel, and cayenne in food processor until finely ground, 5 to 10 pulses, scraping down bowl as needed. Continue to process until uniform paste forms, about 1 minute, scraping down bowl as needed.
Add yogurt and continue to process until smooth, about 15 seconds. Transfer to serving bowl, cover, and let stand at room temperature for 30 minutes. (Dip can be refrigerated for up to 1 day; bring to room temperature before serving.) Season with salt to taste. Sprinkle with reserved chopped artichokes and dark green scallion parts, and drizzle with oil to taste before serving.
Notes
I haven't made this (6/19)
NoMayo https://nomayo.us/