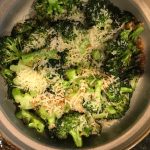 Oven Roasted Broccoli with Panko and Cheese
2018-03-26 09:00:13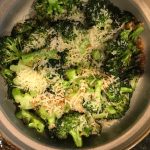 Serves 4
Nutrition Facts
Amount Per Serving
* Percent Daily Values are based on a 2,000 calorie diet. Your Daily Values may be higher or lower depending on your calorie needs.
Ingredients
1 pound broccoli, rinsed and trimmed
2 Tbs. olive oil
2 cloves garlic, chopped or sliced
1/2 tsp. kosher salt
1/4 tsp. freshly ground black pepper
1/3 cup panko bread crumbs
1/4 cup finely grated Parmesan or sharp cheddar
Instructions
Preheat the oven to 425 degrees. Cut the broccoli florets into bite size pieces. Cut the stalk into 1/8 thick, round slices. Place the broccoli into a mixing bowl and toss with the olive oil, garlic, kosher salt and pepper and set aside.
Spread the panko into a 13 by 9-inch metal pan and place into the oven for 2 minutes or until lightly toasted. Remove the panko from the oven and add to the bowl with the broccoli mixture. Toss to combine. Return the mixture to the pan, place in the oven and roast just until the broccoli is tender, 8 to 10 more minutes. Remove from the oven, toss in the cheese and serve immediately.
Notes
Video: https://www.foodnetwork.com/recipes/alton-brown/oven-roasted-broccoli-recipe-1937809#lightbox-recipe-video
NoMayo https://nomayo.us/