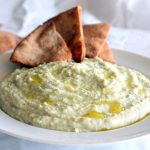 Garlic White Bean Basil Hummus
2018-03-26 08:50:29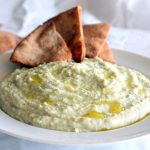 Nutrition Facts
Amount Per Serving
* Percent Daily Values are based on a 2,000 calorie diet. Your Daily Values may be higher or lower depending on your calorie needs.
Ingredients
1 (15 ounce) can of cannellini beans, drained and rinsed
3 cloves of garlic
2-3 tablespoons fresh lemon juice
1/2 teaspoon salt
1/2 teaspoon freshly ground black pepper
4-6 large basil leaves
3 tablespoons olive oil, plus extra for drizzling on top
Water to thin, if necessary
Instructions
Preheat oven to 375 degrees F.
Cut each pita into 8 wedges. and place wedges in a large bowl. Drizzle with 1 tablespoon of olive oil or spray with olive oil cooking spray and gently toss to coat. Sprinkle 1 teaspoon salt all over wedges adding other spices if desired; toss again to coat.
Arrange on an ungreased baking sheet and bake about 8-10 minutes, until pita chips are golden brown. Flip over once halfway through baking. Cool on pans.
Meanwhile to make your hummus: combine beans, garlic, lemon juice, basil, salt and pepper in the bowl of a food processor. Pulse a couple of times until the mixture looks somewhat chopped. Add in the 2 tablespoons of olive oil while the machine is still running. Let process until the mixture is creamy.
If the mixture appears to be too thick, add in a few teaspoons of water at a time to thin it out. Otherwise, season with additional salt and pepper to your liking and drizzle the top with a tiny bit of olive oil.
Notes
This is a delicious alternative to chickpea hummus
NoMayo https://nomayo.us/