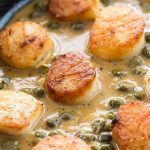 Pan Seared Scallops with Lemon Caper Sauce
2018-06-22 10:23:17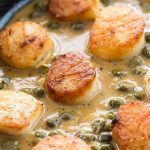 Serves 4
I haven't tried this recipe.
Nutrition Facts
Amount Per Serving
* Percent Daily Values are based on a 2,000 calorie diet. Your Daily Values may be higher or lower depending on your calorie needs.
Ingredients
⅓ cup kosher salt, plus more for seasoning
1 cup hot water
4 cups ice water
1 pound large scallops, 1 ½ inches wide, about 14 to 16
3 tablespoon olive oil
1 tablespoon unsalted butter
1 tablespoon minced garlic
½ cup white wine (optional)
1 cup unsalted chicken broth
1 teaspoon lemon zest
2 tablespoon lemon juice
2 tablespoon capers, rinsed
1 tablespoon dijon mustard
Black pepper, for seasoning
1 tablespoon chopped dill
1 teaspoon chopped chives
6 lemon wedges
Instructions
In a medium-sized bowl combine salt and hot water, stirring to dissolve the salt. Add ice water to cool the brine. Add scallops to the brine and let stand for 10 minutes. Line a sheet pan with paper towels, set aside.
Drain the scallops, rinse under cold water, and then arrange in a single layer on the paper towel-lined sheet pan. Place another paper towel on top of the scallops and gently pat scallops. Remove as much surface moisture as possible for the best browning results when cooked.
Allow scallops to sit for 10 minutes at room temperature before cooking.
In a 12-inch saute pan or cast iron skillet, heat olive oil over medium-high heat until oil ripples and just begins to smoke.
Sprinkle scallops lightly with salt on both sides.
Place scallops into the hot pan without crowding. Gently press scallops with a spatula to make direct contact with the pan.
Sear scallops without moving them, continuing to cook until bottoms are a rich golden brown, 3 to 3 ½ minutes.
Add butter to the pan. Turn the scallops over and cook the second side. Use a spoon to baste the scallops with the butter, tilting the pan to collect the butter as needed.
When the scallops are opaque in color and firm to the touch, about 1 to 2 minutes, turn off heat and transfer to a plate, do not discard pan.
In the same pan used for cooking the scallops turn heat to medium. Add garlic and cook for 1 minute, until fragrant but not browned.
Increase heat to medium-high and add wine. Simmer wine, stirring as needed until the wine is reduced by half, about 3 minutes.
Turn heat to high and add the chicken stock, lemon zest, lemon juice and capers to the pan. Cook until sauce is reduced by half, about ½ cup, 8 to 10 minutes.
Turn off heat and whisk in Dijon mustard.
Turn heat to medium and add scallops back to pan, cook until warm, 2 minutes.
Taste sauce and season with salt and pepper as needed.
Garnish scallops with chopped dill, chives and serve immediately with lemon wedges.
Notes
https://therecipecritic.com/pan-seared-scallops/
The first step is allowing the scallops to sit in a saltwater solution for about 10 minutes before cooking. The benefits of a brine are it delicately seasons the seafood, helps it retain moisture, and prevents the scallops from getting too tough as it's cooking. If you've got a few extra minutes, it's worthwhile to do.
The second step is to dry the surface of the scallops as thoroughly as possible. This process allows immediate searing and color development while preventing steaming in the pan. I just dry them in between paper towel until there is no residual moisture and they become slightly sticky when touched.
The third step is to choose the right pan and use very high heat when cooking. My go-to is a large cast iron skillet, I use it for spicy garlic shrimp and even skillet cornbread. Stainless steel will also work to get a caramel-colored surface too. The pan needs to be super hot so browning begins immediately as scallops can turn rubbery fairly quickly if overcooked. Once those scallops hit the pan, do not move them until you are ready to flip! I also use a little bit of butter to baste the scallops at the end of cooking to promote even more browning and flavor.
Adapted from Recipe Critic
Adapted from Recipe Critic
NoMayo https://nomayo.us/