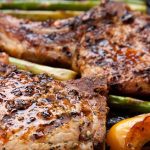 Pork Chops With Mustard Sauce
2018-03-27 14:14:29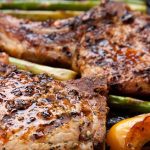 Nutrition Facts
Amount Per Serving
* Percent Daily Values are based on a 2,000 calorie diet. Your Daily Values may be higher or lower depending on your calorie needs.
Ingredients
3 tablespoons olive oil
4 1-inch-thick boneless pork chops (about 1 1/2 pounds)
kosher salt and black pepper
2 shallots, finely chopped
3/4 cup dry white wine
2 tablespoons heavy cream
1 tablespoon Dijon mustard
1 tablespoon chopped fresh tarragon
1 small head frisée, torn into pieces (about 4 cups)
1 lemon, cut into wedges
Instructions
Heat oven to 400° F. Heat 1 tablespoon of the oil in a large skillet over medium-high heat.
Season the pork with ½ teaspoon each salt and pepper. Brown, 2 to 3 minutes per side.
Transfer the pork to a baking sheet and roast until cooked through, 5 to 7 minutes.
Meanwhile, add the shallots and 1 tablespoon of the oil to the skillet and cook, stirring often, until soft, 3 to 4 minutes.
Add the wine to the skillet and simmer until reduced by half. Add the cream and simmer until the sauce just thickens. Stir in the mustard.
Top the pork with the sauce and tarragon. Drizzle the frisée with the remaining tablespoon of oil and serve with the lemon wedges.
NoMayo https://nomayo.us/