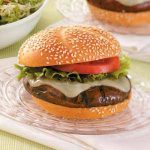 Portabella Steaks with Balsamic Shallots
2018-03-27 14:20:56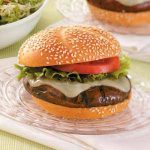 Serves 6
Nutrition Facts
Amount Per Serving
* Percent Daily Values are based on a 2,000 calorie diet. Your Daily Values may be higher or lower depending on your calorie needs.
Ingredients
6 whole Portobello mushrooms (about 2-1/2 pounds)
3 Tbsp. Olive Oil
1-1/2 cups choppeds shallots
½ cup balsamic vinegar
1 cup tomato sauce
Salt and pepper to taste
Instructions
Wipe the mushrooms clean with a damp cloth or soak to clean.
Remove the stems from the mushrooms and chop. If desired, use a teaspoon to remove the fanned "gills" under the cab.
Heat oil in a large nonstick skillet over medium heat. Add the onions and saute until softened.
Stir together remaining ingredients in a small bowl and add to the pan.
Bring to a simmer, then add the mushrooms and chopped stems.
Cover and cook for about 10 minutes.
Serve the steaks hot with the pan sauce spooned over.
NoMayo https://nomayo.us/