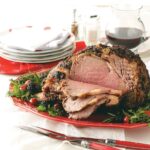 Prime Rib
2020-12-13 13:39:44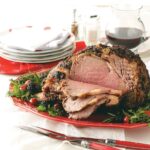 Nutrition Facts
Amount Per Serving
* Percent Daily Values are based on a 2,000 calorie diet. Your Daily Values may be higher or lower depending on your calorie needs.
Ingredients
1 large shallot, coarsely chopped
6 garlic cloves, quartered
3 tablespoons minced fresh rosemary or 1 tablespoon dried rosemary
2 tablespoons minced fresh oregano or 2 teaspoons dried oregano
2 tablespoons minced fresh thyme or 2 teaspoons dried thyme
2 tablespoons minced fresh sage or 2 teaspoons rubbed sage
2 tablespoons olive oil
3 teaspoons pepper
1 teaspoon salt
1 bone-in beef rib roast (4 pounds) brought to room temperature
Mirepoix (optional): one onion, a few carrots and a handful of celery, coarsely chopped
Instructions
Season the meat
Preheat the oven to 350°. While it's warming up, start the seasoning. For a shortcut, you can definitely use a pre-made mix, but it's easy enough to make your own from scratch. Begin by placing the shallot, garlic and herbs into a food processor; cover and pulse until it's finely chopped. Then add in oil, pepper and salt. Cover and process until it's blended. This will "wet" down the seasoning so it's easy to spread on your rib roast. Rub the mix liberally over standing rib roast. Let it sit at room temperature about 30 minutes before roasting. This takes the chill off the meat surface, which aids in browning.
Fill a 13×9-in. baking pan with the mirepoix and rest the meat on top. Place the prime rib fat side up, which will bathe the roast in its own flavorful juices as it cooks.
Bake the meat until it reaches 5 to 10 degrees below your desired doneness. I'm a sucker for somewhere in between rare and medium-rare. That'll take somewhere between 1-3/4 and 2-1/4 hours.
You may be tempted to cut into your steamy, herb-crusted roast, but let it rest for at least 15 minutes. This gives the juices time to absorb into the meat. For larger cuts, you might want to let it stand for 5 minutes longer.
If the bones are still attached, carve 'em off with a sharpened knife. The easiest way to do this is to lift the roast onto its end using its protruding bone as a handle. Then glide the knife along the curve of the bone, detaching it from the rest of the meat. With the bones removed, you'll be able to slice roast as thick (or thin) as you'd like.
Notes
Definitely worth viewing the video and reading original link from Taste of Home. It includes an easy alternative to the seasoning (just salt, pepper and herbes de Provence)
Tools
Food processor
13×9-in. baking pan (be sure the pan you choose isn't too large, which will cause the drippings to evaporate)
Meat thermometer
Test Kitchen tip: For can't-miss flavor, cut slits into the roast and stuff with minced garlic.
I haven't tried making this (12/2020)
Adapted from Taste of Home
NoMayo https://nomayo.us/