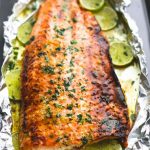 Provençal Salmon Recipe
2018-03-27 14:27:22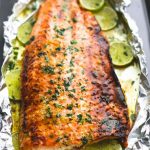 Nutrition Facts
Amount Per Serving
* Percent Daily Values are based on a 2,000 calorie diet. Your Daily Values may be higher or lower depending on your calorie needs.
Ingredients
4 6-ounce, skinned salmon
fillets
Salt and freshly ground black
pepper to taste
1 tablespoon fennel seed
1 tablespoon minced fresh
rosemary
1 tablespoon minced orange
zest
2 tablespoons olive oil or
clarified butter
Instructions
Season fillets on both sides with salt and pepper. Grind fennel
seed coarsely in a coffee or spice grinder, and mix it with the
rosemary and orange zest. Press this mixture onto the top of each
fillet.
Preheat oven to 400 degrees.
Preheat a large nonstick skillet over medium-high heat for 3 or 4
minutes. Add the oil or butter called for in the recipe and, when
it shimmers, place the fillets, coated side down, in the pan. Cook
about 1 minute, or until the spice mixture forms a nicely
browned crust.
Turn the fillets and cook about a minute more, then transfer to
the oven. Cook about 4 minutes for rare salmon, 5 to 6 minutes
for medium rare and 8 minutes for well done.
Adapted from NY Times Cooking
Adapted from NY Times Cooking
NoMayo https://nomayo.us/