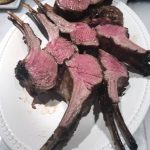 Roasted Rack of Lamb
2019-08-31 12:17:08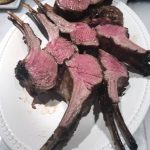 Serves 6
I made this with the help of the supremely talented Marilyn Mossman. It's a perfect recipe.
Nutrition Facts
Amount Per Serving
* Percent Daily Values are based on a 2,000 calorie diet. Your Daily Values may be higher or lower depending on your calorie needs.
Ingredients
3 lamb racks, extra fat removed
3 tbsp vegetable oil
1 tbsp Italian spice blend (use prepared from Simply Good or make at home with this recipe)
Instructions
Place a large sauté pan over high heat (425-450 degrees). While the pan is heating up, season each lamb rack with the Italian spice blend (approximately 1 teaspoon per rack).
Add 3 tbsp of vegetable oil to the hot pan and_sear top of lamb rack 2 minutes.
Tum the lamb racks over and sear other side for 2 more minutes. You are looking for a nice golden brown color on both sides.
Remove lamb racks from the saute pan and place on a roasting rack fitted over a sheet pan. Place in a preheated 400° oven for 22 minutes or until it reaches an internal temp of 140°.
Remove from oven and let it rest for 12 minutes before slicing/serving.
Adapted from Simply Good Kitchen
Adapted from Simply Good Kitchen
NoMayo https://nomayo.us/