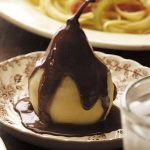 Poached Pears with Chocolate Sauce
2018-04-13 09:22:29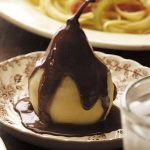 Serves 2
Nutrition Facts
Amount Per Serving
* Percent Daily Values are based on a 2,000 calorie diet. Your Daily Values may be higher or lower depending on your calorie needs.
Ingredients
2 medium firm pears
2 cups water
3/4 teaspoon clear vanilla extract
1 cinnamon stick (2 inches)
1/4 teaspoon ground nutmeg
2 tablespoons sugar
1 tablespoon baking cocoa
1 teaspoon cornstarch
1/8 teaspoon ground cinnamon
6 tablespoons 2% milk
CHOCOLATE SAUCE VERSION 2
2 squares unsweetened chocolate, broken up
1/3 cup water
1/2 cup granulated sugar
3 T butter, cut into small pieces
1/2 tsp vanilla
Instructions
Core pears from bottom, leaving stems intact. Peel pears. Cut 1/4 in. from bottom to level if necessary. Place in a large saucepan; add the water, vanilla, cinnamon stick and nutmeg. Bring to a boil. Reduce heat; cover and simmer for 35-40 minutes or until pears are almost tender.
Meanwhile, in a small saucepan, combine the sugar, cocoa, cornstarch and cinnamon. Gradually whisk in milk until smooth. Bring to a boil over medium-high heat; cook and stir for 1-2 minutes or until thickened and bubbly. Cool.
Drain pears; place on dessert plates. Drizzle with chocolate sauce.
Adapted from Taste of Home
NoMayo https://nomayo.us/